Flavor Is Not At Stake With These Steak Salad Recipes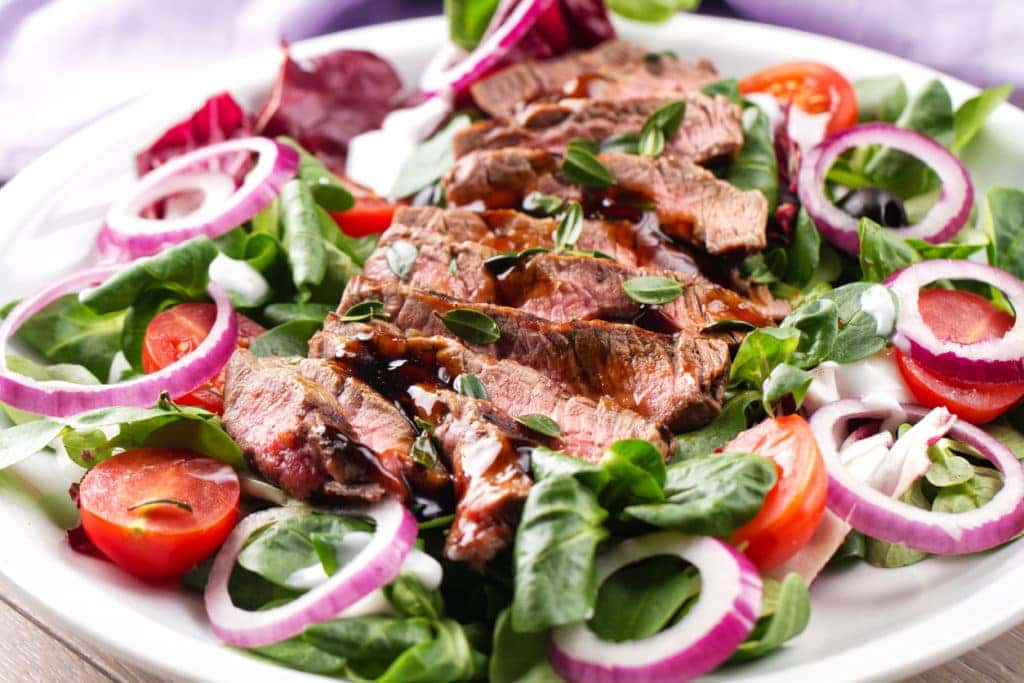 Hearty steak and fresh salad are a classic pairing, and there's no end to the imaginative ways these two can be combined. Try these inventive dishes whenever you want protein with your greens.
The Standard Steak Salad
Salad and steak are both meals that typically don't require much overdressing to enjoy. When you combine the two, that quality holds up, and you can't go wrong with the traditional steak salad. For this one-plate meal, the steak is thoroughly tenderized with a delicious marinade of apple cider vinegar and Worcestershire sauce, and when the marinade is all whipped together, remember to set some aside to use later as the dressing.
Balsamic and Gorgonzola
Balsamic vinegar has a flavor all its own, and it's a well-established base for popular salad dressings. The vinegar's tart, bold complexity also pairs well with steak, and this balsamic and gorgonzola salad combines everything with fresh additions like corn, red onions, and endive lettuce. Leafy greens fill out the salad composition, while the steak marinade and dressing both require the wonderfully Mediterranean combination of rich balsamic vinegar and olive oil. When it all comes together, crumble some gorgonzola cheese over everything.
Fajita with Cilantro Vinaigrette
Season up your greens with a taste of the Southwest in this steak fajita and cilantro vinaigrette salad. Prepping the steak starts with a spice rub, in this case a mix of salt, pepper, paprika, cumin, garlic powder, onion powder, chile powder, and Mexican oregano. Throw the seasoned steak in a hot skillet to let those spices blacken, cooking the meat a few minutes on each side. Then add in some sliced bell pepper and onion to build that full fajita flavor. When you combine the cooked items into the salad, drizzle over a tangy dressing of white vinegar, garlic, olive oil, cilantro, and lime juice, which you can emulsify in a blender.
Thai Steak Salad
If you're a fan of Thai cuisine, you'll find that those flavors translate seamlessly to steak and salad. This Thai steak salad calls for flank steak, but you can also experiment with other proteins like grilled chicken depending on your tastes. Citrus, brown sugar, herbs, fish sauce, and sriracha all work together for sweet, savory, and spicy notes, but the salad's complexity never overshadows the hearty steak at the heart of the dish.
You might also like: Tips For A Great Road Trip
Safford Mazda of Fredericksburg
If you're craving incredible performance, come check out our new vehicle selection in Fredericksburg.