Master How To Clean Your Car's Undercarriage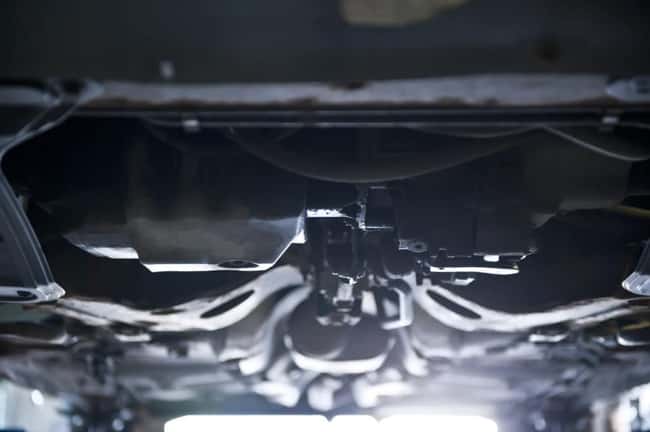 For many drivers, the undercarriage of their car is out of sight, out of mind. It's important to take care of those vital components underneath, so follow these steps to keep it clean.
When to Wash
According to the experts, your car's undercarriage should receive a thorough cleaning at least once per season, no fewer than four times per year. You might need to clean the underside of your vehicle more often if you go off-roading, or during the colder months, when the roads have been treated with salt. That salt can stick to your vehicle as you drive, and if it remains on for very long, it can promote rust on those metal surfaces. You might also notice this same effect if you stay along the coast for long as well. The salt air from the sea can lead to rust underneath, so consider a wash whenever you get back from a vacation by the sea.
Getting Started
While a good car wash should be able to clean your car's undercarriage for you, there are also some simple steps you can follow to handle the job in your own driveway. A strong pressure washer can help you remove tough contaminants that build up with regular use, and you can even assemble this do-it-yourself washer if you want to streamline the process. To remove some of the undercarriage's toughest grime, you can also apply a degreaser, which you'll need to let set for a little while before rinsing away again with the pressure washer.
Degreasing and Finishing
Undercoating sprays and other products can help you clear away that patina that builds up underneath, but remember to let the undercarriage dry completely before applying it, as rubberized coatings can trap in moisture and promote rust if they go on a wet surface. You should also avoid products that don't require any cleaning, as these "set and forget" sprays can actually conceal problems without fixing them, and they could even make matters worse. For the next round, scrub away any more visible spots with a brush, then rinse again.
You might also like: Easy Homemade Face Masks
Safford Mazda of Fredericksburg
There's more to car care than a good wash, so whenever your car needs professional mechanical work, you can count on the technicians in our service center for skilled maintenance. Schedule your service with Safford Mazda of Fredericksburg whenever you're ready.