Grab A Fork For Any Of These Pasta Salads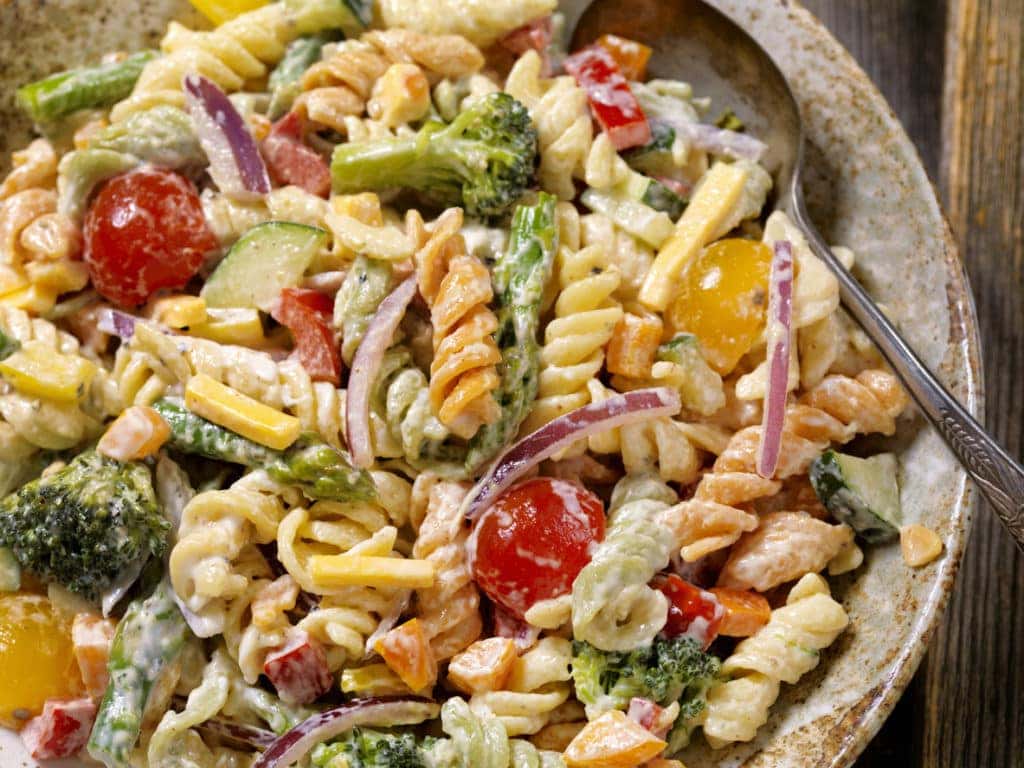 The temperature outside is rising, which means cold foods are about to be your friend. That statement is even more true when the food has already been made, so you can avoid the stove or oven steaming up your kitchen. These pasta salads combine the best of both worlds, providing a quick, no-heat way to cool down. There are a ton of ways to dress a pasta salad, so let's look at a few and see if any pique your interest.
The only thing better than the toppings that go on a pasta salad is the dressing that ties it all together. This Ultimate Pasta Salad recipe includes the recipe for a delicious homemade dressing that will hold everything together, and bring out the flavors of the other ingredients. It's made up of red wine vinegar, lemon juice, minced garlic, granulated sugar, dijon mustard, dried oregano, minced oregano, minced parsley, olive oil, and salt and pepper to taste. Inside the pasta salad itself are hearty ingredients such as pickled capers, crumbled feta, cucumbers, cherry tomatoes, and red onions. We can already picture the crunch!
Pesto is a classic, so what better way to get something extraordinary than to mix classic with classic. With a box of pasta shells, cherry tomatoes, crumbled feta, bacon bits, roasted cashews, and pesto, you can have a beautifully green pesto pasta salad in no time. If you choose to roast the cashews on your own, you can do that by putting them on a baking sheet and cooking for 4-8 minutes with the oven at 300 degrees. Shake them up halfway through so they don't burn.
You might also like: Protect The Outside Of Your Car
Add even more crunch to your pasta salad with a unique lineup of ingredients: cooked chicken, green grapes, red grapes, dried cranberries, ranch dressing, mayo, and salted cashews. This combo gives you plenty of savory and plenty of sweetness. It's a win-win and a real crowd pleaser!
Cool off and chow down with a delicious pasta salad this summer. Make a big batch and keep it ready to eat at all times. Your future self (and stomach) will thank you!