Grab A Fork For These Succulent Summer Pasta Salads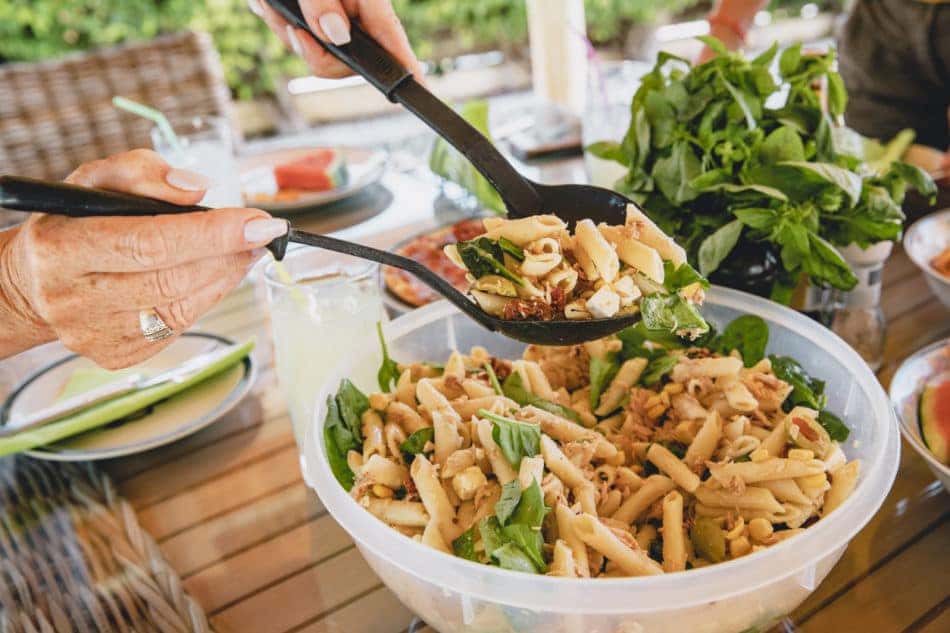 One of the most popular side dishes during the summer is pasta salad. Served cold and loaded with fresh ingredients, from meats to vegetables and special sauces, these dishes are delicious accompanied by fresh BBQ off the grill. Although, the typical pasta, cheese, olives, and Italian dressing recipe can get old after time, so if you want to shake things up a bit, treat your tastebuds to one of these unique, succulent summer pasta salads.
Strawberry Avocado Pasta Salad
Avocado and strawberries are the ingredients for summertime, so why not throw them over pasta and a delicious, creamy balsamic glaze? This irresistible bowtie pasta calls for the STAR Modena Creamy Balsamic Glaze, but any dressing from homemade to storebought will do. If you're looking to add some color to your plate, look no further than this Strawberry Avocado Pasta Salad with Balsamic Glaze. Oh, and don't forget the poppy seeds!
Cowboy Pasta Salad
For a different twist on the cold pasta salad game, you are sure to be pleased with this meaty Cowboy Pasta Salad. Loaded with beef, bacon, corn, cheese, raging hot sauce, and more, not only will your tummy be pleased, but your tongue will bursting with spice. This delectable dish can be eaten as a side or as an entree, as it offers the perfect combination of meat, starches, and veggies. Calling all meat lovers — enjoy!
Italian Tortellini Salad
Mmm Tortellini, but yes, it's served cold! Filled with fresh ingredients like meats, tomatoes, banana peppers, cheese, and herbs, after just one bite, your family will be begging you to make another batch. This pasta salad is drenched in a homemade dressing, and it's sure worth the extra couple of minutes. If you don't use all of it, store it in a jar in the fridge. This side dish is also a hearty one, offering three types of meat, including ham, hard salami, and pepperoni.
You might also like: Enjoy The Farmer's Market In Fredericksburg
Pizza Pasta Salad
Who doesn't love pizza? We make it in the oven, buy it frozen, and call it in for delivery, but after time, the same foods can get old. If you're pie-crazed, but looking to shake things up a bit, check out this Pizza Pasta Salad. Calling for all of the toppings, just like pizza, including green and red pepper, tomatoes, olives, and cheese, this filling recipe is sure to please.
If you're craving a deal, head over to Safford Mazda of Fredericksburg to shop vehicles and save big!