Try BBQ Teriyaki Chicken Skewers For Your Next Meal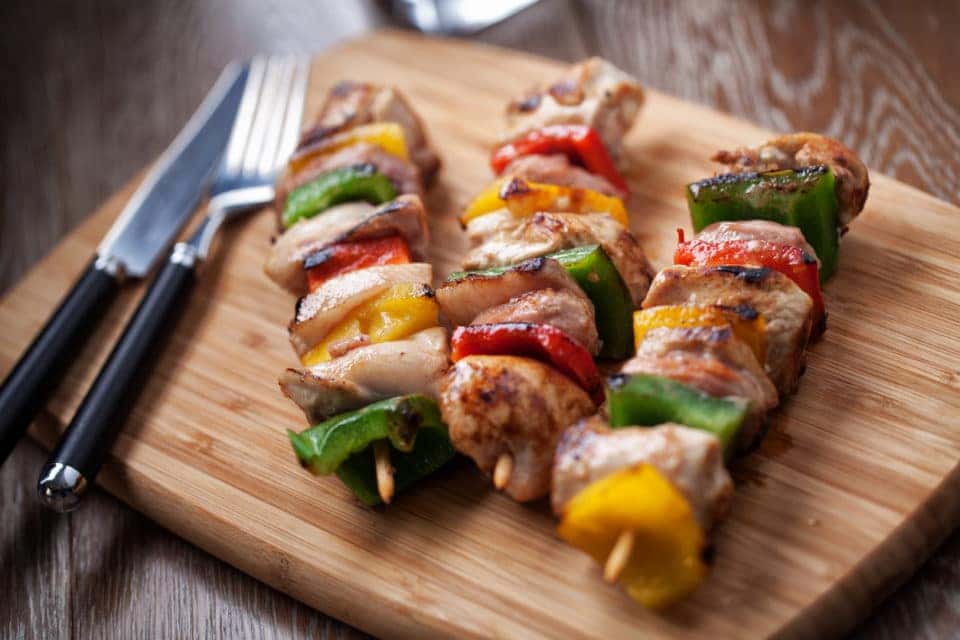 Chicken kebabs, or skewers, are a fantastic meal for lunch or dinner for several reasons. First, they're incredibly quick to make – after you've marinated the chicken, you only have about 10-15 minutes of cook time! Second, they're completely customizable. Whether you prefer chicken breasts or chicken thighs, bell peppers, or no peppers at all, you can make these skewers however you'd like.  Let's take a closer look at this easy-breezy recipe.
Ingredients
To make these skewers, you'll need:
3 lbs. chicken, breast or thigh meat
2 cups red bell pepper, cubed
2 cups yellow bell pepper, cubed
2 cups green bell pepper, cubed
1 cup red onion, cubed
3/4 cup Garlic Teriyaki Marinade
1/4 cup extra virgin olive oil
2 tbsp BBQ Seasoning
1 1/2 tsp salt
1 tbsp garlic, minced
Method
Start by cubing all of your produce – the onion and bell peppers. Mince the garlic and set aside for later. Next, cube all of the chicken, being sure not to cut it too small. For the marinade, combine the Garlic Teriyaki Marinade and olive oil with the BBQ seasoning, salt, and garlic in a large bowl or gallon-sized plastic baggie. Add the chicken cubes to the marinade and let marinate in the refrigerator for at least 30 minutes, preferably overnight.  If marinating overnight, be sure to store and refrigerate your cubed veggies, too.
Once the chicken is finished marinating, assemble the kebabs on wooden skewers, alternating veggies and chicken. Grill the kebabs for 7-10 minutes until fully cooked. If you don't have a grill or want to avoid grilling in the cold during the winter months, you can cook the kebabs in the oven. Simply heat the oven to 450°F, line a baking sheet with parchment paper or aluminum foil, and bake for 25-30 minutes. Alternatively, you can also pan-fry the skewers in olive oil for 8-10 minutes per side.
You might also like: Take A Look At The 2019 Mazda CX-3
Meal Prep
If you like to meal prep, these kebabs should absolutely be part of your regular rotation! They pair well with other veggies, cheeses, rice, beans, or even quinoa. You can de-skewer the meat and veggies before packing them in your prep containers for easy storage.